SUSSEX
The County
Sussex, or South Saxon country, as highlighted in the map at left, is in the south-east part of England. It was the arrival county of the Normans in 1066, and site of the Battle of Hastings. Sussex lies south of London and Surrey, with Hampshire on the west, and Kent to the east, with the English Channel as a southern coastline.
Stretching nearly 80 miles (130 Km) across, Sussex has often been run from two centres, both ecclesiastically and civilly, with a division roughly based on the Greenwich Meridian.
West Sussex (area: 1,991 sq.km, Population in 2018: 859,000) is administered from Chichester and East Sussex (Area: 1,792 sq.km, Population in 2018: 845,000) from Lewes, although Lewes' larger neighbour Brighton and Hove was proclamed a city by Queen Elizabeth II in 2001.
A Coat of Arms
The Local Government Act 1888 introduced administrative counties each governed by an elected county council. Sussex was divided into two administartive counties: East and West Sussex.
East Sussex County Council adopted a seal in 1889, bearing a quartered shield showing six gold martlets and other insignia. East Sussex County Council was granted a new coat of arms on August 29, 1975, as illustrated here.
The Martlet is the mythical bird shown on the Sussex Coat of Arms. Thought to represent the swallow, it is shown at rest, wings closed and without feet, possibly because many myths tell that the martlet, or swallow, could never land. A number of early Sussex families used martlets on their arms. There is a crest with six martlets on it over the gateway at Bodiam Castle.
The County Flag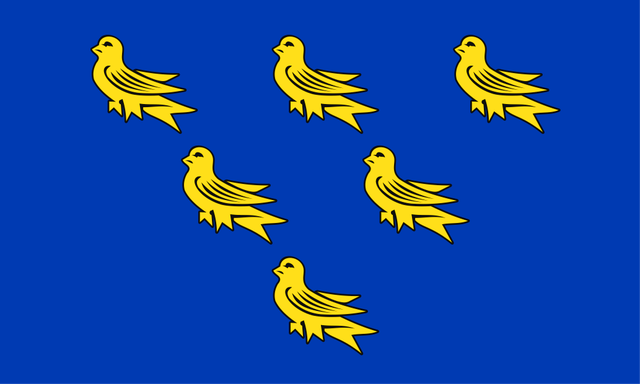 A relatively new feature of the Sussex identity is the Sussex flag. According to the Flag web site, "The Flag of Sussex was registered on Friday 20th May 2011 as a result of a campaign started in August 2010, by Sussex resident Brady Ells, with support from his dad David. The flag represents the whole of Sussex and is based on the traditional emblem of Sussex, six Gold martlets on a Blue field."
Explore all the options from this page while you are there, and enjoy the voyage.


Some Family Locations in East Sussex/Kent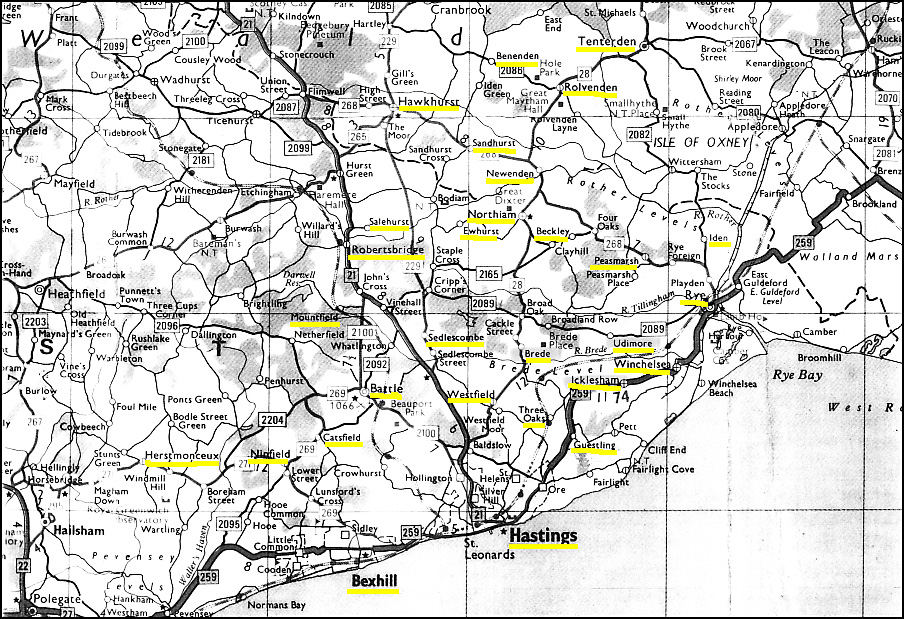 The towns and villages highlighted in the map above are those included in the family data.
Sussex Farming

Agricultural Regions, Improvements and Land Use c.1840 in Sussex
- by Brian Short (2) pp. 48-49
The author noted that by 1874, the High Weald had 6,664 Ha producing hops,which represented 25% of the entire country's production.
The Sussex Dialect
I was fortunate to be able to download a sound file with the recorded speech of a senior resident of Sussex being interviewed as a part of a BBC project in 1998, and it is available on a subsequent page.

Follow the transcript as you listen to that interview from this link. Because of the included sound file there may be a slight delay. From that page is a link to a second page which has notes on the dialect from two writers, which are interesting reading.
East Sussex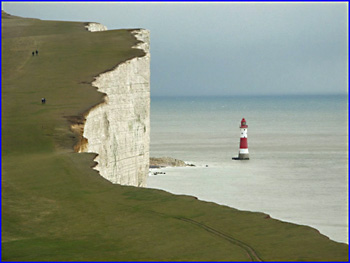 The part of East Sussex that was home to our family is an area of valleys, narrow lanes and picture postcard views. The River brede incises the eastern part. As well as small farms, dairies and sheep farms, there are a few remnant hop farms with the characteristic oasthouses (most now in ruins) visible.
There are many timber-framed houses, utilising local oak, though recent renovations have seen the timbers covered by cladding, stucco or brick to reduce maintenance. Iron was an early industry in this area, but at a cost of devasted forests for the forges, the last of which (at Ashburnham) closed in 1809.
Beachy Head, pictured at left, is a part of the famous chalk cliffs along the south-east coast of England, and a popular photograph for visitors to East Sussex.(3)
The major claim to local historical fame is the town of Hastings, near to the site of the famous battle in 1066. One can only imagine the hardships suffered by the peoples of Sussex through centuries of invasions due to their nearness to Europe. There are many other castles open for inspection, including Bodiam, Lewes, Camber and Herstmonceux. About eleven of the 47 Martello Towers built in Sussex during the early 19th century for coastal defence still remain, and some have been restored.
The changes resulting from the Poor Law of 1834 obviously had a major effect in this part of Sussex, as reflected in the high emigration rates. Brede and Rye Parishes were recorded (2) as having workhouses after 1835, whilst the larger parishes of Battle and Hastings had just one. See these pages for more information about Sussex Emigration, especially the counties of Sussex and Kent.
References:
(1) Allen, David J: Sussex (Shire Publications, 1995)
(2) Leslie, Kim & Shorts, Brian (eds): An Historical Atlas of Sussex (Phillimore & Co. 1999)
(3) Wikipedia
This page was updated on: 20 July 2021