The Quarantine Station
North Head - Sydney
Background
The infant colony of New South Wales needed a place to quarantine sick immigrants and convicts arriving with a range of infectious diseases.
In 1828, the 'Bussorah Merchant' arrived with small-pox on board, and so the isolated spot at Spring Cove, on the north head of the entry to Sydney Harbour was set up with tents along the beaches. Not only did Spring Cove offer a sheltered mooring for quarantined vessels, but it had a natural spring with fresh water.
When the 'Maitland' arrived ten years later, tents were still being used to house passengers not requiring medical treatment in the temporary weatherboard hospital. On arrival at the Station, passengers were required to wash and change into new clothing. All used clothing and bedding from their ship was burned. The ship was scrubbed with hot water and soap, washed with a strong solution of chloride of lime and then fumigated with charcoal and sulphur. Stoves were kept burning in the holds and between-decks for at least a fortnight. Passengers were grouped into healthy and not-healthy, and separated into buildings with armed sentries to maintain the separation. However, the Station's "Healthy Ground" held only about 100 people in four buildings when the 'Maitland' arrived, and open fires were provided for cooking. The hospital consisted of a male and a female ward, and in the unlined, overcrowded building patients often lay on bedding placed on the floor.
In the years of major emigration, there was a high mortality rate amongst infants on board the ships aided by stress, seasicknessess and unsuitable food. Medical treatments included the use of powdered chalk to alleviate diarrhoea, caster oil for constipation and 'free bleeding' for fever.
At the end of each quarantine, government-assisted immigrants were ferried to Sydney and taken to the Immigrants' Barracks where they remained at government expense for a short period when they found employment.
Although the Station was established as a maritime quarantine station, it was also used during epidemics in Sydney of smallpox in 1881 and 1913, and plaque in 1900. An extensive building program was undertaken between 1912 and 1920, and these buildings were largely unchanged until the Station was closed in March 1984, and the site handed over to the National Parks and Wildlife Service for preservation and development.
During its years of service 1828 to 1984, at least 580 vessels were quarantined in Spring Cove and more than 13,000 people were quarantined in the facilities. An estimated 572 people were buried in the three burial grounds on the site, including about 50 who were brought from Sydney for burial during land outbreaks of smallpox and plague.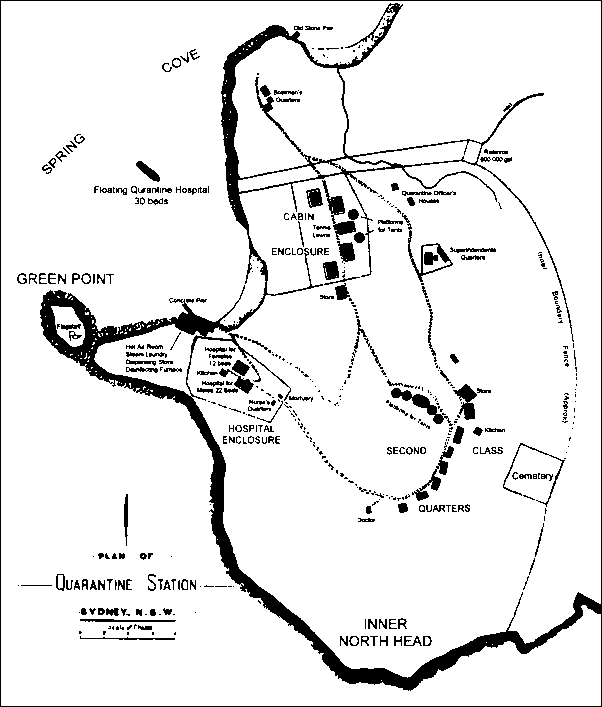 A Plan of the Quarantine Station in 1884
Reference: Foley, Jean Duncan: In Quarantine -Kangaroo Press 1995
Recent History
From 1988, the National Parks and Wildlife Service sought expressions of interest from companies willing to develop the Quarantine Station site as a tourism facility. A fire destroyed the 180-year old Hospital Building in February 2002, and Police ruled out arson as the cause. The search for a developer had no success, until finally, in November 2006, it was leased to Mawland Ltd for 21 years, in spite of considerable public protest.
In 2008 the facility, with accommodation, dining and a range of visitor activities, opened under the trading name of Q STATION.
This page was updated on: 8 September 2020