The Fairhall District - New Zealand

What's in a Name?
The Fairhall district is several kilometres west of the township of Blenheim, in the Marlborough Region on the South Island of New Zealand.
According to the book 'Marlborough Place Names' by H A H Insull, the district was "named after one of the chainmen in Joseph Ward's survey party" about 1849 in Marlborough district, New Zealand.
In the opinion of the Marlborough Historical Society, William Fairhall, eldest son of Edward and Ann, was believed to be the 'Fairhall' working for surveyors Mr C. Goulter and Mr Joseph Ward, who fell into a river which was then named the Fairhall River in memory of that event, and gave its name to the district around it as settlement developed.
Edward Fairhall (1794-1872) and his wife Ann (née Bishop) (1802-1882) had migrated under the 'Wakefield Scheme' on board the "Mary Ann", arriving in the South Island town of Nelson on 5 February 1842 with seven of their children: William (1822), Ann (1824), Eliza (1827), Edward jnr (1829), Elizabeth (1831), George (1836) and Benjamin (1838).
I believe it is very likely that this family, for which I have so far recorded over 360 descendants, is related to my family, as Edward was baptised in my ancestral home village of Brede, East Sussex. With help from family members we are searching for more clues as to the family's ancestry.
The Fairhall District Today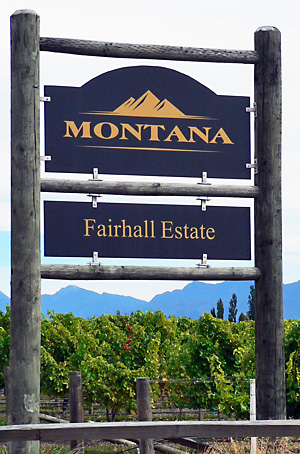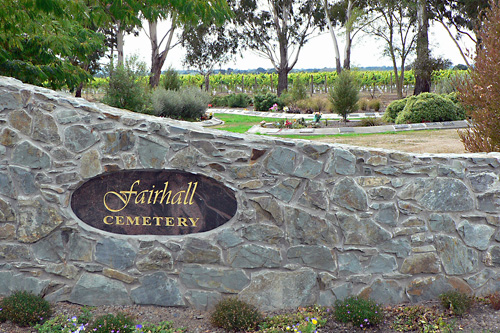 As a part of the Marlborough Region, the district has many vineyards and wineries, from the large Montana Estate to smaller boutique and family businesses.
The Fairhall River, which crosses new Renwick Road not far from the school, is quite ephemeral. When we visited it was not flowing at all, but we were told it had flooded many of the vineyards just six months earlier.
The Fairhall name is of course everywhere, on a school, a community hall, a cemetery, a resort and vineyards.
Fairhall School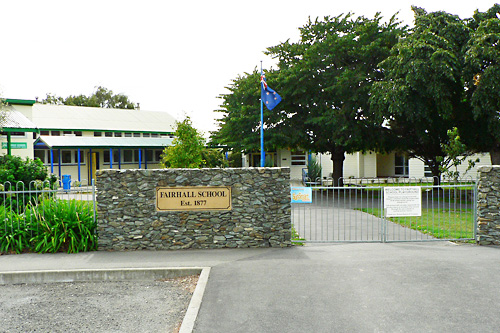 The Fairhall School opened in 1877 and is located on New Renwick Road, catering for children from 5 to 13 years of age.
School facilities include eight classrooms and a multi-purpose room used for a variety of indoor activities. Outside, the schol has two multipurpose courts, a large playing field, junior and senior playground areas and an award-winning edible garden.
The sauvignon grape, synonymous with the Marlborough region, features on the school logo, as shown above left.
Fairhall House B &amp B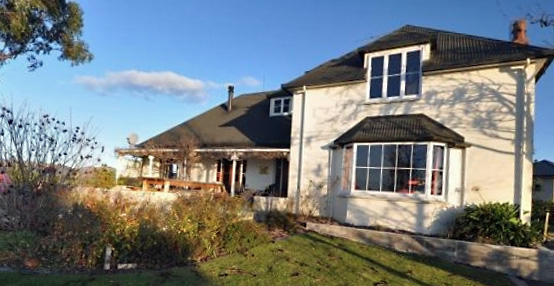 The Fairhall House Bed and Breakfast is located in the heart of MARLBOROUGH wine country. It is the ideal place to stay while visiting Blenheim. The house is part of the Marlborough Ridge rural subdivision so you can enjoy beautiful views of the Marlborough countryside, the peaceful surroundings and access to walking tracks and conservation reserves with fantastic birdlife.
Fairhall House is five minutes drive from the airport, ten minutes drive to the town of Blenheim, ten minutes walk to the prestigious Villa Maria Winery and also situated next to an 18-hole GOLF COURSE for golf enthusiasts.
Fairhall Downs Estate Vineyard and Winery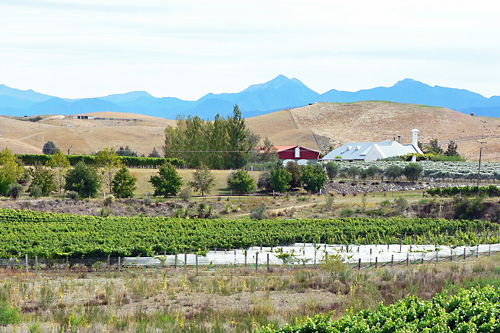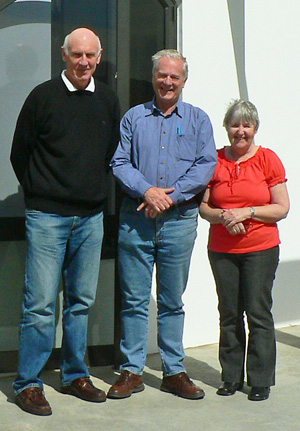 Ken Small and Stuart Smith were grape growers in the Marlborough Region since 1982, supplying Montana and Villa Maria from their 20 Hectare vineyard at the top of the Brancott Valley Road. In 1996 they launched their own Fairhall Downs label. As can be seen in the photo at left, the family home and vines are along the Fairhall River, as it flows through the Estate.
In 2008, our Fairhall Family Reunion, held at Morpeth NSW, was a weekend of fun, sharing and learning for 200 family members, and we purchased some cases of Fairhall Downs wine to use as "door prizes" and appreciation gifts for our guest speakers.
Heather and I visited the winery in 2010 while holidaying on the South Island, met owner Ken Small (picture at right), tasted the range of fine wines and purchased a few bottles to sustain us during our travels.
Brendon Bray and family purchased Fairhall Downs in 2014, with a strong focus on vineyard improvement and the introduction of sustainable management. There does not appear to be a current retailer of Fairhall Downs wines in Australia, but I hope to provide that information here once we locate one.

This page was updated on: 9 September 2020